$39.99
3D Printlife BioPETG
BioPETG is a professional grade PETG specially formulated to be consumed by bacteria once it enters a landfill to energy facility or a commercial compost. 3D Printlife's proprietary bio-additive technology simply provides a food source for the bacteria living in those environments. BioPETG maintains the strength, heat resistance, printing characteristics, and post-process capabilities of PETG in every way.
How does BioPETG work?
BioPETG meets both ASTM D5338 & D5511 standards for biodegradability.  
ASTM D5338 determines the degree and rate of aerobic biodegradation of plastic materials by measuring a percentage of conversion of carbon in the sample to carbon dioxide. ASTM D5511 measures anerobic biodegradation.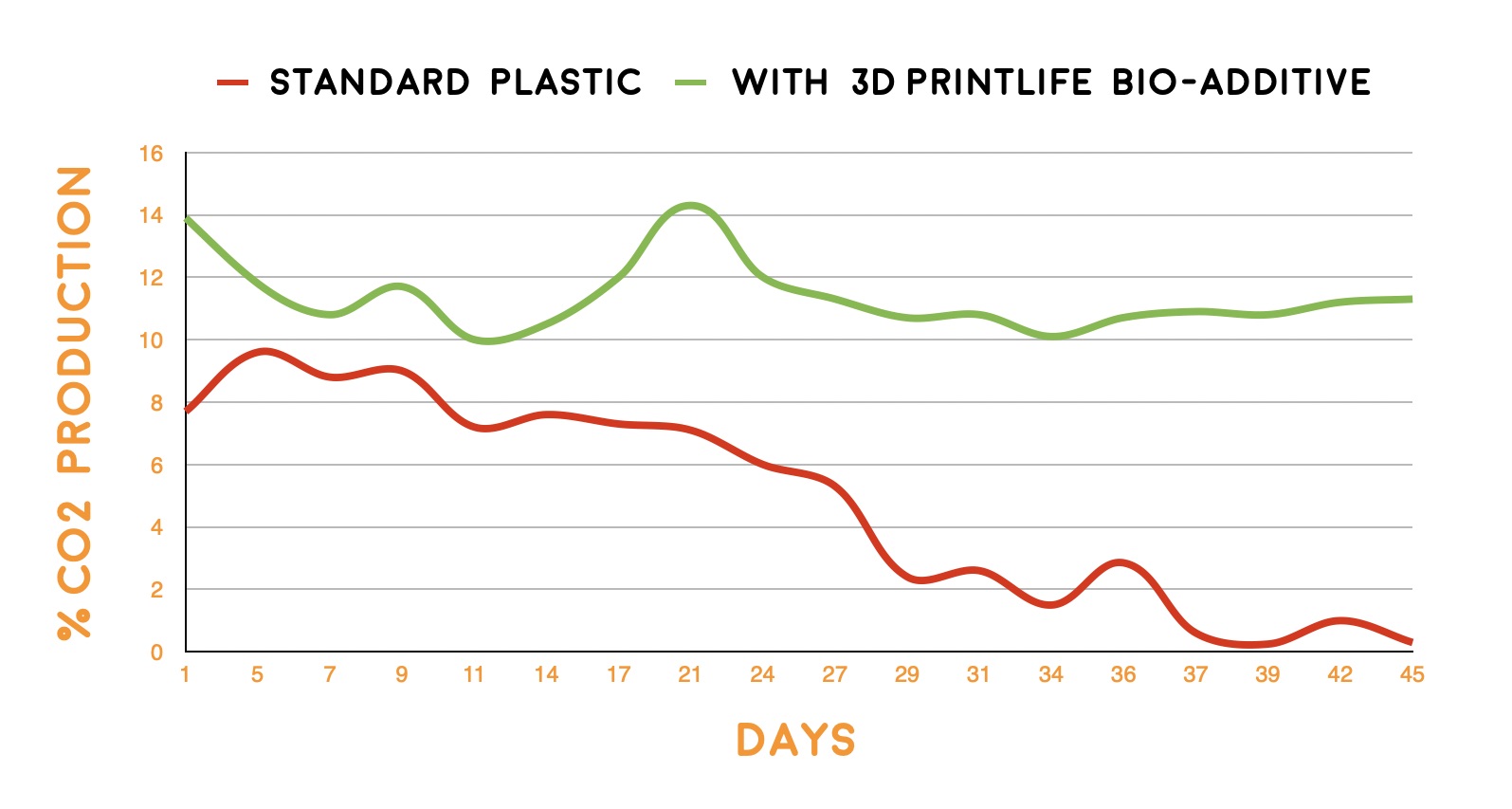 (Average results of combined tests)
BioPETG™ combines many of the benefits of ABS with the ease of printing associated with PLA in one material:
High impact resistance
High strength and durability
Excellent layer adhesion
Excellent pliability
Very low shrinkage, therefore little to no warping making it deal for large prints
Smooth finish
No heated bed required
High temperature resistance
Odorless printing
Excellent chemical and water resistance
Excellent geometric accuracy
Can be sterilized
Strong but flexible (ideal for drones, mechanical parts, & robotics)
FDA compliant
As with all materials there is a settings "sweet spot" that will vary from one printer to another. BioPETG™ is no different, but once you're dialed in printing with BioPETG™ is a dream. Here are some general setting guidelines:
Set your nozzle temperature between 235°C and 250°C.
Print with cooling fan at 100%
A heated bed is not required but start between 70°C - 80°C if available.
Set print speed around 55mm/sec or less.
Try starting with an additional .2mm gap in the Z axis to avoid skimming
Specifications
Nozzle Temp: 235℃ - 255℃
Bed Temp: 0°C - 80°C
Bed Surface: Glass, Painter's Tape, BuildTak, PEI
Print Speed: ≤ 55mm/s
Fan Speed: 100%
Flow Rate: 110.%
Spool Weight: 750g